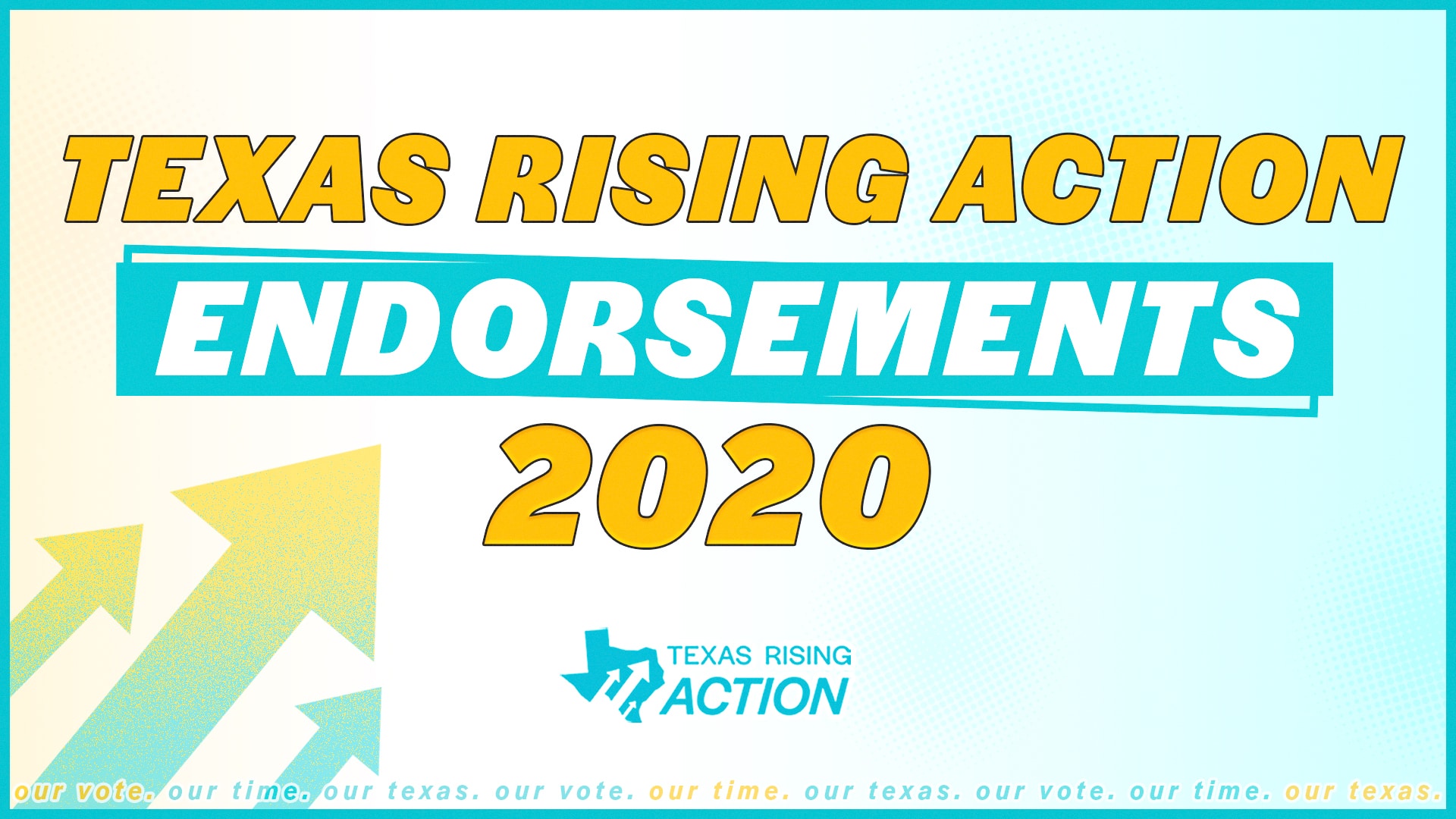 Oct. 5
Voter Registration Deadline
Oct. 13
First Day to Vote Early
Oct. 30
Last Day to Vote Early
Nov. 3
Election Day
Our Vote. Our Time. Our Texas.
Texas Rising Action is proud to support the following candidates for the Texas House, Senate and State Board of Education in the Nov. 3, 2020 election.
These individuals represent the largest and most diverse slate of candidates ever endorsed by Texas Rising Action. Our membership believes that these candidates are a path toward a better Lone Star State, one that will thrive when the voice of a rising generation of young Texan is properly represented at the Legislature and at the State Board of Education.
Texas House of Representatives
Central Texas
HD 45 – Rep. Erin Zwiener
HD 47 – Rep. Vikki Goodwin
HD 48 – Rep. Donna Howard
HD 49 – Rep. Gina Hinojosa
HD 51 – Rep. Eddie Rodriguez
HD 52 – Rep. James Talarico
HD 54 – Keke Williams
HD 136 – John Bucy
DFW Area
HD 33 – Andy Rose
HD 64 – Angela Brewer
HD 65 – Rep. Michelle Beckley
HD 66 – Sharon Hirsch
HD 67 – Lorenzo Sanchez
HD 89 – "Sugar" Ray Ash
HD 92 – Jeff Whitfield
HD 93 – Lydia Bean
HD 94 – Alisa Simmons
HD 96 – Joe Drago
HD 100 – Jasmine Crockett
HD 101 – Rep. Chris Turner
HD 102 – Rep. Ana Maria Ramos
HD 103 – Rep. Rafael Anchia
HD 104 – Rep. Jessica Gonzalez
HD 105 – Rep. Terry Meza
HD 108 – Joanna Cattanach
HD 112 – Brandy Chambers
HD 113 – Rep. Rhetta Andrews Bowers
HD 115 – Rep. Julie Johnson
El Paso/West Texas
HD 74 – Eddie Morales
HD 75 – Rep. Mary Gonzalez
Houston Area
HD 25 – Patrick Henry
HD 26 – L. Sarah DeMerchant
HD 27 – Rep. Ron Reynolds
HD 28 – Eliz Markowitz
HD 29 – Travis Boldt
HD 126 – Natali Hurtado
HD 128 – Mary Williams
HD 130 – Bryan Henry
HD 132 – Rep. Gina Calanni
HD 134 – Ann Johnson
HD 135 – Rep. Jon Rosenthal
HD 137 – Rep. Gene Wu
HD 138 – Akilah Bacy
HD 140 – Rep. Armando Walle
HD 144 – Rep. Mary Ann Perez
HD 149 – Rep. Hubert Vo
San Antonio Area
HD 44 – Robert Bohmfalk
HD 53 – Joe Herrera
HD 118 – Rep. Leo Pacheco
HD 121 – Celina Montoya
HD 122 – Claire Barnett
HD 124 – Rep. Ina Minjarez
HD 125 – Rep. Ray Lopez
East Texas, Gulf Coast, College Station, Waco
HD 2 – Bill Brannon
HD 5 – Lawyanda Prince
HD 6 – Julie Gobble
HD 14 – Janet Dudding
HD 32 – Eric Holguin
HD 56 – Katherine Turner-Pearson
Texas Senate
SD 1 – Audrey Spanko
SD 4 – Jay Stittleburg
SD 6 – Sen. Carol Alvarado
SD 11 – Susan Criss
SD 19 – Roland Gutierrez
SD 24 – Clayton Tucker
SD 29 – Cesar Blanco

Texas State Board of Education
SBOE 1 – Georgina Perez
SBOE 5 – Rebecca Bell-Metereau
SBOE 6 – Michelle Palmer
SBOE 10 – Marsha Burnett-Webster

Texas Railroad Commission
Chrysta Castañeda

U.S. House of Representatives
TX 10 – Mike Siegel
TX 16 – Rep. Veronica Escobar
TX 24 – Candace Valenzuela
TX 25 – Julie Oliver
TX 32 – Rep. Colin Allred
TX 35 – Rep. Lloyd Doggett

El Paso City Council
Dist. 7 – Aaron Montes

Hays County Commission

Pct. 3 – Lisa Prewitt
Political Advertisement Paid for by the Texas Freedom Network